With procedures grounded in research, Dr. Hanna performs complex surgeries with a meticulous attention to detail aided by the latest innovations in medical technology. His use of the Da Vinci surgical robotic system has been celebrated by Hamilton media outlets and is earning him a reputation as one of Canada's most innovative surgeons.
2022
First fully robotic Esophagectomy in Canada performed at St. Joseph's Healthcare Hamilton
2020
– A robot is getting early lung cancer patients in and out of the operating room on the same day (CHCH News) – View Segment 
– Hamilton's St. Joe's hospital uses $5-million robot to assist with lung cancer surgery (Hamilton Spectator) – Read article
2019 – St. Joe's is the future of surgical innovation
2017 – First Robotic Segmental Resection with Indocyanine Green Guidance in Canada
Segmental resection for very small lung cancers is a very complex operation in the chest, which aims at removing small lung tumors while preserving the maximum amount of healthy lung for the patient. This operation is traditionally performed only rarely and with large incisions, due to its difficulty. Dr. Hanna and his team have pioneered a new technique that greatly simplifies this operation by using fluorescent dye (ICG) to exactly delineate the parts of the lung that should be removed. Moreover, this innovation allows surgeons to perform the operation with very small incisions, using the Da Vinci robot, enabling excellent and fast recovery.
2016 – First Endoscopic Mucosal Resection at McMaster
Endoscopic Mucosal Resection is a modern technique for the removal of small and early cancers of the esophagus. Traditionally, these patients would have to undergo a major 6 hour operation for the removal of the entire esophagus, necessitating a hospital stay of at least 10 days, with a very high chance of complication and mortality. With EMR, these patients can now have the procedure done in an outpatient setting in endoscopy, and go home the same day, with a very low chance of complication.
2014 – First Robotic Lung Cancer resection at McMaster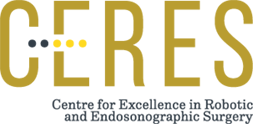 The team at the Centre for Excellence in Robotic and Endosonographic Surgery (CERES) all share a common vision and patient care oriented approach. The use of robotics allows complex surgeries to be performed with the highest level of precision and accuracy. Traditional surgical methods are highly invasive which result in more pain and longer recovery times. In contrast, robotic surgery is minimally invasive and causes less trauma to body tissues. As a result, recovery times are much faster and patients can resume their normal daily activities not long after surgery. With a solid foundation of education and research, CERES is working towards improving patient outcomes with the latest advances the medical field has to offer.